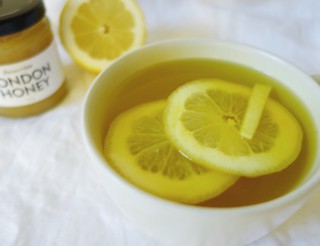 We've started our mornings with warm water & lemon juice for years, its a great way to wake up, cleanse your body and help increase your metabolism. So, recently we've been boosting the lemon juice with other ingredients for an even more powerful and tasty health elixir.  Make it your morning routine and reap the benefits.
I N G R E D I E N T S :
Serves 1
Juice 1/2 lemon
Couple of thin slices of ginger
1/2 tsp dried turmeric or 1/2 fresh pod peeled and sliced
1 tsp raw apple cider vinegar
1/2 tsp manuka or raw honey
2-3 dl boiled water
D I R E C T I O N S :
Pop all the ingredients in a large mug, add boiled slightly cooled water. If you're short on time fill half the mug with cold filtered water and top up with freshly boiled water.
• S T G  T I P •
Make another batch and take with you to work for a mid-morning pick me up or share it with a lucky someone. If you still prefer going for tea – read our Coffee alternative article here.
When buying your usual raw honey try to opt for local, ecological and often the slightly more expensive honey to support the local bee farmers and the conservation of our bees. Did you know that honey bees account for roughly 80% of all pollination worldwide?!